PART OF THE FURNITURE
BFA
Capstone
12" x 19"
(205 pages, edition of 2)
2019
Part of the Furniture is a five part exploration in surveillance, focusing on human, photo, video, and digital ways of watching.

Completed for the BFA Communication Design program at the Sam Fox School of Design & Visual Arts.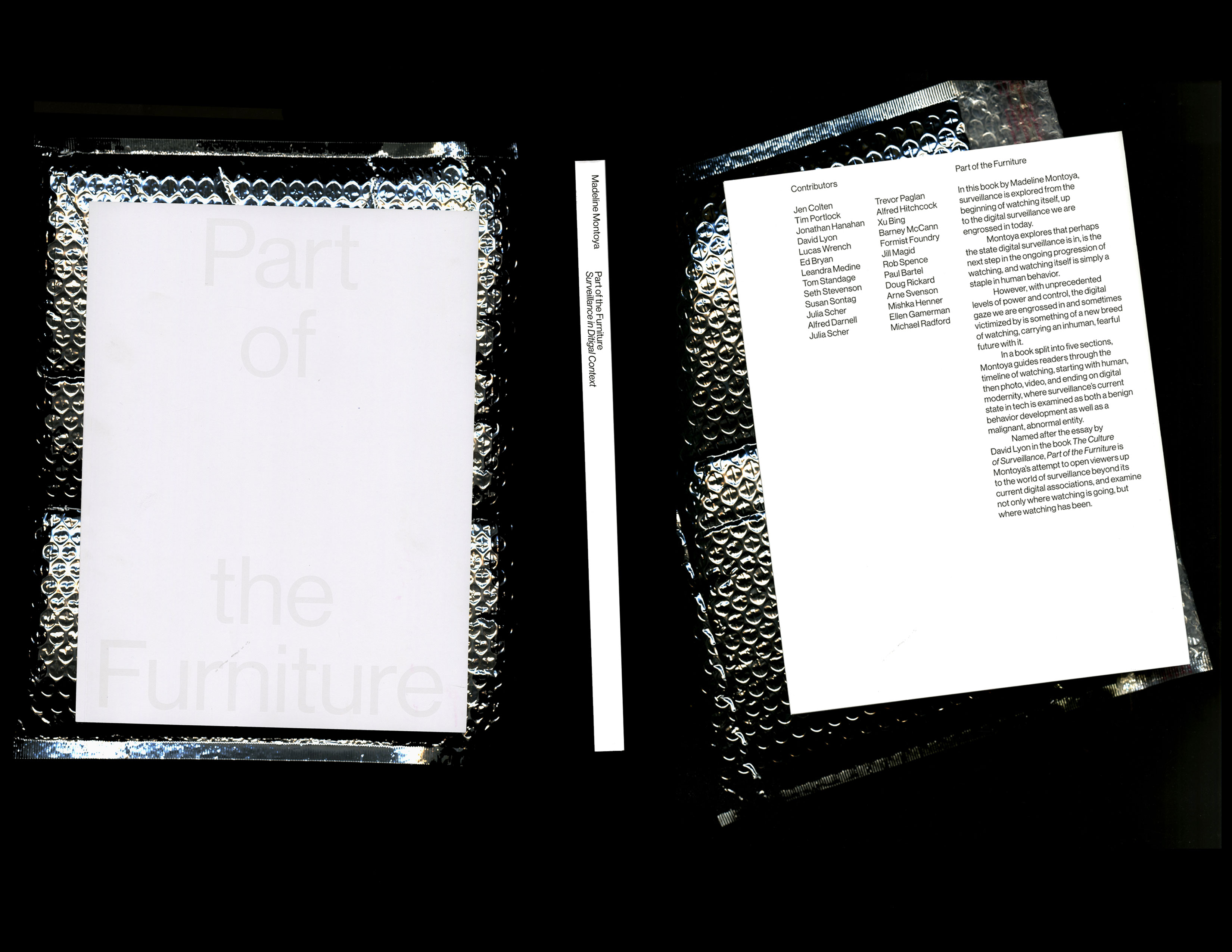 Surveillance and privacy protection have been some of the hottest topics in the past year, and it seems that people have never been more afraid of this seemingly new problem in society. However, my thesis explores that the current state digital surveillance is in, is simply the next step in the ongoing progression of watching, and that watching itself is a staple in human behavior.
However, with unprecedented levels of power and control, the digital gaze we are enviros see in and sometimes victimized by is something of a new breed of watching, carrying an inhuman fearful future with it, as well becoming too entrained in the daily fabric of our lives.
The book it split into five sections, where I guide readers through the timeline of watching, starting with human, photo, video, and ending on digital modernity, where surveillance's current state of tech is examined as both a benign behavior development as well as a malignant abnormal entity. With written pieces ranging from Susan Sontag to interviews with artists and professors of digital privacy, part of the furniture acts as a collection of thoughts challenging old thoughts and provoking new ones in terms of surveillance's place in human behavior.
Named after the essay by David Lyon in the book The Culture of Surveillance, Part of the Furniture is my attempt to open people up to the long standing world of surveillance beyond its current digital associations and examine not only where watching is going but where watching has been.
The book focuses heavily on the play of imagery as a method to express the idea of surveillance not only as a small sinister concept that decorates the fringes of our lives, but also highlights how humans have played with the Idea of watching for a long time, including imagery of media predating digital modernity, such as rear window and the Truman show. The text is often pushed the the sides of the pages as well, pushing the idea of tense ideas being on the fringes of our minds, as well as creating empty spaces within the pages itself, capturing the unseen aura of surveillance and watching. Lastly, the cover itself is a custom UV spot plate with white text on a white cover, embodying how watching and surveillance is often felt, but hard to see.